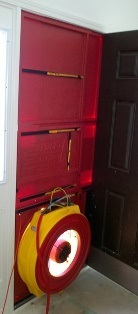 Effective January 1st, 2013 all new construction & extensive renovations fall under the new Illinois Energy Conservation Code as amended (AKA as the Energy Efficient Building Act (EEB ACT) [20ILCS 3125] that requires "DET Verification" (or more commonly known as Duct & Envelope Tightness Verification) be completed. For the "envelope portion" this requires a blower door test utilizing either a single point test or multi-point test done by a certified individual which cannot exceed 5 ACH (air changes per hour).
With our commercial grade equipment you also don't have to worry about the size of the house or commercial building not being able to be tested. Blower Door Testing Checklist for Builders
To schedule a duct &/or envelope leakage test please call us at (815) 200-3688 or send an E-Mail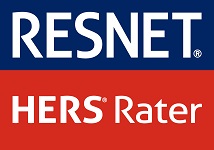 As a Certified HERS RESNET Rater, ENERGY STAR® Verifier, ICC Residential Energy Inspector / Plans Examiner, and one that has spent over 20 years in the trades, not only can we perform & certify the test results, but we can also help you get up to speed with the requirements, and train you & your trade partners on how to pass on the 1st try.
Cost's:
Envelope Leakage Test Only…………………………………….$250
Combined DET Verification (W/ 1 HVAC system)……..$400 (Save $100)
Additional HVAC Systems……………………………………….$150 each
HVAC – Leakage to Outside w/ combined…………………Add $50 per system (Only required for certain programs like ENERGY STAR, NICOR / ComEd)
Supply & Return Registers over 10′ up……………………..Please Call
Rush / Emergency Charge (aka same day charge)………Add $50
**On Site Training, Consulting, Diagnostic Time……….$95 hr.
**System Retest……………………………………………………..Same charges as Above
Negotiated Contract Pricing is available for sub-divisions and multi-family projects depending on size & amount of units to be tested.
** For each system test we include up to 30 minutes for diagnostic time and to allow additional sealing work to be completed. If additional time is required to pass & our schedule allows, that time will be billed out as Diagnostic & Training Time, saving you not only time but a retest fee.
Area's Served
We gladly serve many of the western suburbs in DuPage, Kane, Kendall, & Will counties like; Naperville, Plainfield, Aurora, Batavia, Bolingbrook, Downers Grove, Joliet, Oswego, St. Charles, Wheaton, & Oswego to name a few. If you do not see your location listed please feel free to call us. Even if you are outside our normal service area we will gladly travel to most locations though additional travel charges may apply.
To schedule a duct &/or envelope leakage test please call us at (815) 200-3688 or send an E-Mail