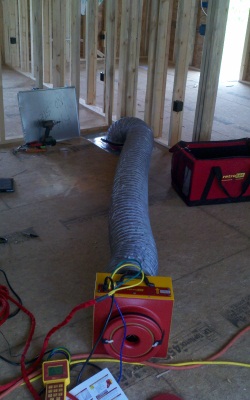 Effective January 1st, 2013 all new construction & extensive renovations fall under the new Illinois Energy Conservation Code as amended (AKA as the Energy Efficient Building Act (EEB ACT) [20ILCS 3125] that requires "DET Verification" (or more commonly known as Duct & Envelope Tightness Verification) for any system not completely contained inside the thermal envelope. For the "Duct Blaster / Leakage portion" the local jurisdictions require one of three tests be completed even if you are going with the ERI or other options.
To schedule a duct &/or envelope leakage test please call us at (815) 200-3688 or send an E-Mail
The Duct Leakage Test:
Duct leakage measurements are used to diagnose and demonstrate leakage & efficiency problems with the system, and certify the quality of the installation. While there are four common tests, only three are recognized under the EEB Act.
The "Total Duct Leakage" or "Post-Construction" test involves sealing up all the registers in the house, hooking up a calibrated fan and pressurizing the duct system to 25 Pascals (Pa). The maximum leakage allowed is 4 CFM per 100 SF of "Conditioned Floor Area."
The "Rough-In Test" is basically the same as the Total Duct Leakage Test above except this is done before the drywall goes up. The best thing about this test, is it allows you to make needed corrections before the finishes are installed and is the most popular option. Just like above the maximum allowed leakage allowed is 4 CFM per 100 SF of "Conditioned Floor Area."
If the air-handler is not installed a "Rough-In" test maybe still be completed but you are only allowed 3 CFM per 100 SF as compared to 4 CFM for the other two. Please note all the ducts must be in place including the ones that "bolt onto" the air handler.
The "Leakage to Outdoors Test" is not acceptable for code compliance but rather is a specialty test required by certain programs like ENERGY STAR & requires pressurizing the house (using a blower door) & duct system (see above) to 25 Pa & measuring how much CFM of air is required to bring the system up to 25 Pa.
Cost's:
Single Package System……………………………………………$250
Additional Systems………………………………………………..$150 each (in same house)
Supply & Return Registers over 10′ up……………………..Please Call
Rush / Emergency Charge (aka same day charge)……..add $50
Leakage to Outside Test (need notification)………………add $150 (unless combined with DET verification than it is $50)
Combined DET Verification (W/ 1 HVAC system)………$400 (save $100)
**On Site Training, Consulting, Diagnostic Time……….$95 hr.
**System Retest………………………………………………………Same charges as Above
Negotiated Contract Pricing is available for sub-divisions and multi-family projects depending on size & amount of units to be tested.
** For each system test we include up to 30 minutes for diagnostic time and to allow additional sealing work to be completed. If additional time is required to pass & our schedule allows, that time will be billed out as Diagnostic & Training Time, saving you not only time but a retest fee.
Area's Served
We gladly serve many of the western suburbs in DuPage, Kane, Kendall, & Will counties like; Naperville, Plainfield, Aurora, Batavia, Bolingbrook, Downers Grove, Joliet, Oswego, St. Charles, Wheaton, & Oswego to name a few. If you do not see your location listed please feel free to call us. Even if you are outside our normal service area we will gladly travel to most locations though additional travel charges may apply.
To schedule a duct &/or envelope leakage test please call us at (815) 200-3688 or send an E-Mail
Additional Info: Duct Testing 101 — Dust Testing FAQ's for Homeowner's — Common Duct Leakage Area's & Methods (aka how to pass the first time (Note: specific area's and methods start 1/2 way down)